Cowboy's Countertops is a family owned business since 1996. They have been in the solid service industry for over 20 years!
A total of seven brothers collaborated to create a company that offers experienced fabrication and installation services. Their services include the following: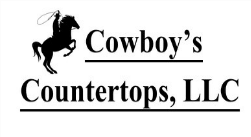 ·Kitchen countertops
·Bathroom countertops
·Jacuzzis
·Table tops
·Furniture pieces
·Shower surrounds
·Fireplace
·Floors
·Outside Grills
·Stairs
·Custom Edges


Cowboy's Countertops is a dedicated company that delivers exceptional experience to each and every customer. Their main goal is to provide a professional service that will satisfy each customer and accent your home with beautiful and natural stone products. Do not hesitate to call for a FREE ESTIMATE!